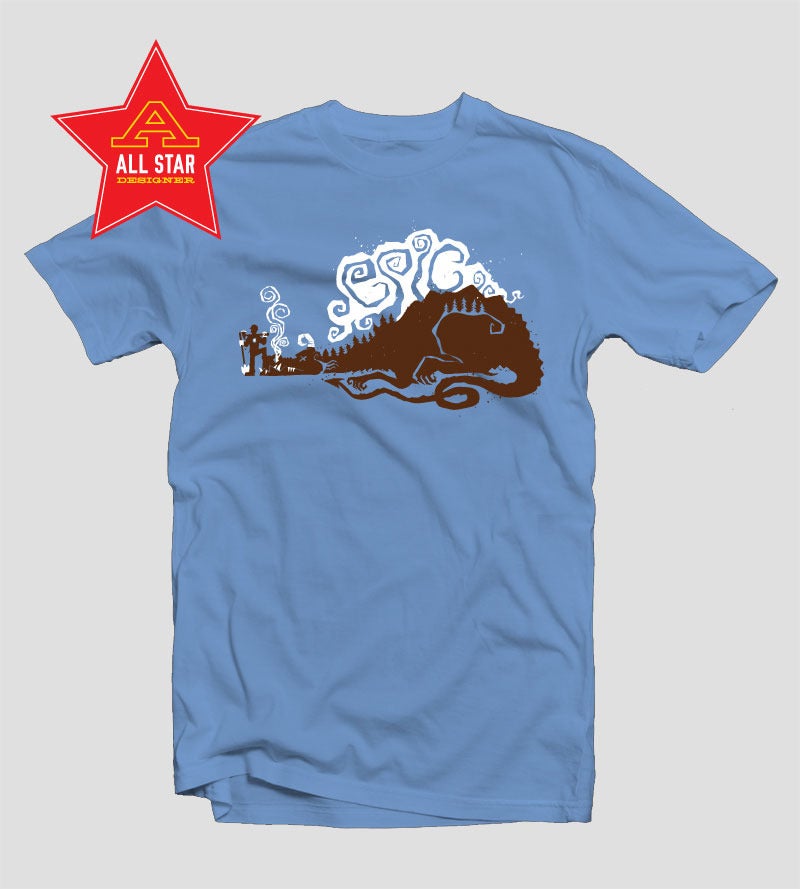 Epic - Batch 4 | Designed by Luke Flowers
$

20.00 Tweet
---
Designed by Luke Flowers
Colorado Springs, CO
"The inspiration for this illustration came from a headline from a
newspaper that referred to this tragedy as 'EPIC', with several news reporters also dropping that word.
The wildfires of Colorado were truly EPIC in many ways, from the tragedy of the destruction to the bravery of the firefighters. I had originally thought of having the firefighter battling the dragon, with the flames pouring from his mouth and the trees burning on his back.
However, in the time that I was asked to create this piece, the firefighters had EPICALLY battled the blaze into containment. So, I thought it even more fitting to show how the firefighters of Colorado had vanquished the blaze and conquered their foe." -- Luke
About the designer
WFT Note: We've known of, worked with and been lucky to be friends with Luke for several years. His illustrations speak for themselves, but you also couldn't find a nicer, more humble guy.
Luke A. Flowers is an illuminator of the imagination from Colorado Springs, Colorado. He graduated from Rocky Mountain College of Art in 2000 with a BFA, with a major in illustration. When he is not in his creative cave cranking out unique creations, he finds inspiration in strumming on a guitar or banjo, writing songs, and consuming a unique blend of books, movies, music and coffee. Of course, all these inspiring adventures can only be enjoyed fully with his equally illuminating wife and 3 kiddos.
All WildFire Tees are printed on high-quality, 100% cotton pre-shrunk tees and screenprinted with love right here in Colorado. Sizing charts and info can be found on our Shirt + Sizing Info page.
What you see is what you get; All sales are final (and awesome!)
Free shipping in the U.S. Usually ships within 1-3 business days.